Joggers for men are a popular style of athletic and casual pants that are designed for comfortable and relaxed wear. However, one clothing item that has become increasingly popular among men is joggers. These are comfortable and stylish pants that are perfect for a casual look.
Joggers are a type of sweatpants that are designed to be more fashionable and versatile than traditional sweatpants. They are made from a variety of materials, including cotton, polyester, and spandex, and are available in different colours, patterns, and styles. The elastic waistband and cuffs make them comfortable to wear, and they are perfect for lounging around the house, running errands, or even going out.
We offer a variety of joggers for men that are perfect for any occasion. They are made from high-quality materials that are both comfortable and durable, making them the perfect addition to any man's wardrobe. Here are some of the top picks from our available collection:
Types Of Joggers For Men:
Slim Fit Joggers: These joggers have a slimmer fit through the legs, offering a more tailored and stylish appearance compared to traditional baggier sweatpants. They are suitable for those who prefer a more streamlined look. They have an elastic waistband with drawstrings and cuffs at the bottom, and they come in a variety of colors, including black, navy, and grey.
Cargo Joggers: The cargo joggers are made from a blend of cotton and spandex, which makes them comfortable and stretchy. They are mid-rise with elastic waistbands and cuffs, and they come in a variety of colors, including khaki, white, black, and navy. They are perfect for outdoor activities, such as hiking or camping, as well as for casual outings. They look great with a simple t-shirt and sneakers, or they can be paired with a hoodie for a more relaxed look.
Linen Joggers: Linen joggers are suitable for warmer weather, as linen is a breathable and lightweight fabric. They are comfortable and can be dressed up or down for various occasions. Linen joggers often have a relaxed and casual style, making them suitable for leisurely activities or a more laid-back look. They can be dressed up or down depending on the occasion.
Classic Joggers: These classic joggers are a timeless style that every man should have in his wardrobe. They are cotton blend which makes them comfortable and durable. You can never go wrong for your casual looks when you have this pair of joggers. If you prefer, you can add some accessories like smartwatches, chains, or studs to enhance your look. A casual hangout with friends is perfect for wearing these joggers outside. You can pair them with T-shirts, hoodies, sweatshirts, or even dress them up with a stylish jacket.
Tapered Joggers:
Tapered joggers are a specific style of jogger pants that are known for their distinct leg shape. These joggers are designed to be narrower at the ankle compared to the upper leg and thigh, creating a more fitted and tapered look. Tapered joggers are a new style and are perfect for men who want a more stylish look.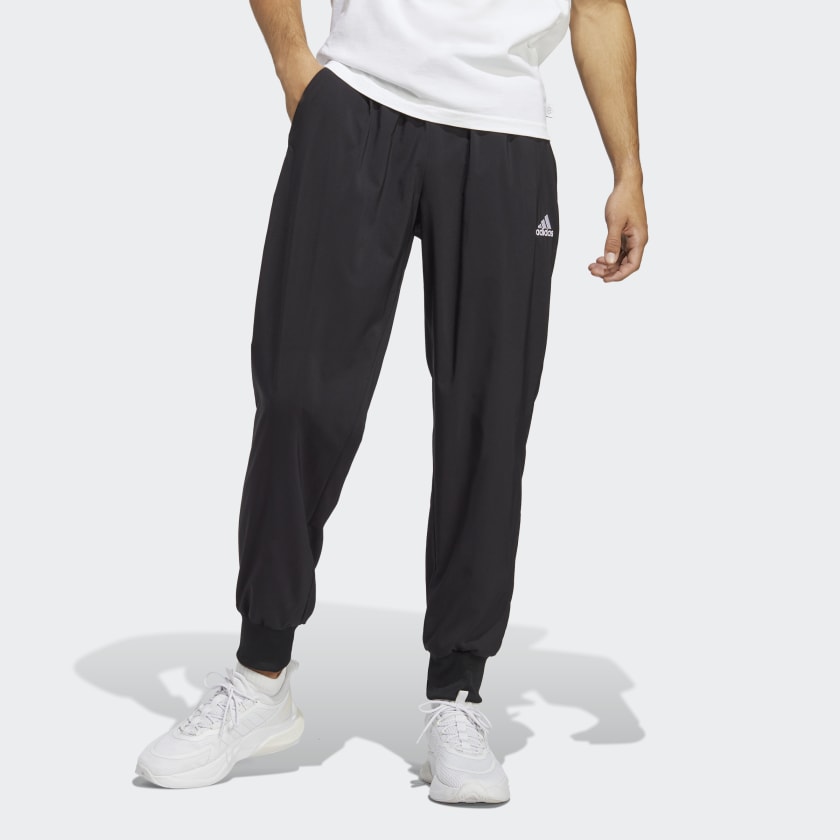 Athleisure Joggers
Blurring the line between athletic and leisurewear, athleisure joggers often feature a stylish design that can be worn for various activities, from the gym to casual outings. Athleisure joggers are highly versatile. They can transition seamlessly from the gym to casual outings or even more formal settings, depending on the specific design and styling. They are often designed to be worn with a range of tops, including T-shirts, sweatshirts, or even a casual blazer.
Yoga Joggers
Yoga joggers are a specialized type of activewear designed for practicing yoga and other low-impact activities. They combine the comfort of traditional joggers with the flexibility and functionality needed for yoga practice. Yoga joggers typically have a loose and relaxed fit, allowing for ease of movement and flexibility during yoga poses and stretches. The roomy fit provides comfort and prevents constriction.