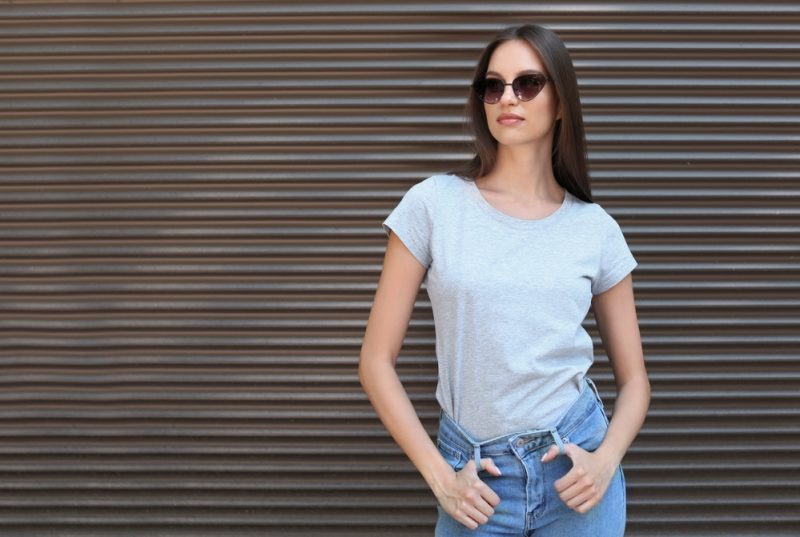 T-shirts, the wardrobe essentials loved by all, are versatile, comfortable, and effortlessly stylish. These classic garments offer a blank canvas for self-expression, allowing you to convey your personality, support your favorite causes, or showcase your unique style through colors, designs, and graphics. Perfect for casual days, layering, or making a statement, t-shirts are the go-to choice for both comfort and fashion-conscious individuals. T-shirt collections, based on fashion trends that were popular.
The "best" brand can vary based on personal style, preferences, and budget. Here are some well-known and reputable clothing brands that have been appreciated by women for their quality, style, and range:
Zara: Known for its fast-fashion offerings, Zara provides a wide range of trendy and stylish clothing options for women.
H&M: Another popular fast-fashion brand, H&M offers affordable and diverse clothing choices for various occasions.
Madewell: This brand is celebrated for its quality denim and laid-back, stylish clothing options that often have a timeless appeal.
Everlane: Focused on transparency and ethical practices, Everlane offers high-quality basics and classic pieces for women.
Reformation: With a focus on sustainability and unique designs, Reformation is a go-to for eco-conscious and fashionable women.
4 Secrets for Women to Look Good in a T-shirt
1. Find the Right Fit:
Many manufacturers use different sizing measurements. This can leave you confused and uncomfortable.
It's essential to find the right fit for your frame to look good in your t-shirt.
There are five basic body shapes. Each has a different effect on the way your t-shirt looks on you.
Triangle and oval-shaped bodies look better in a loose-fitting garment, so you may want to choose a larger-sized t-shirt than you usually would.
Those with a trapezoid or inverted triangle shape can play up an athletic cut with a tighter t-shirt.
If you're a symmetrically shaped rectangle type, stick to truer sizes to ensure you don't look like you're drowning in fabric or too stuffy.
2. Explore Different Fabrics
Plain cotton t-shirts are no longer the only choice for the casual shopper. Today's natural and manmade fabrics boost style and comfort, often without breaking the bank.
High-end bamboo-based fabrics are soft, and silky, and give you plenty of air circulation.
Merino, made from fine-woven wool, requires minimal washing in-between wears.
Stretchy Lycra, Spandex, and similar manufactured clothes keep their shape through all kinds of use.
Linen t-shirts give your garment a smooth, silky texture.
Jersey is super soft, flexible, and warm.
3. Check Your Colors
Be cautious in your use of colors and patterns. Sticking with solid, neutral colors keeps your look clean and flexible. You can always play it up with more colorful layers to achieve a vibrant effect. These colors are versatile and appropriate for most skin tones.
Gray goes well with black or white pants.
Black goes with everything and makes an excellent background for silver accessories.
Of course, you can still fashionably rock your white T-shirts. It's best to avoid busy patterns or too bold colors if you're going for a more distinguished look. Layer your t-shirt with a hooded sweatshirt. You can find unisex wholesale hoodies to fit your style and budget at ShirtSpace.
4. Keep Your T-Shirts Clean
The foundation of a good style is proper care of your clothing. Be sure to launder your t-shirts according to the manufacturer's label. It's also important to fold and store your garments correctly. This avoids wrinkles that will compromise your style.
Remember that vintage doesn't mean damage. If your older shirts have holes, stains, or have been stretched out of shape, it's better to let them go in favor of something less mangled.
5 Vacation Wear that'll Have You Daydreaming Your Favorite Holiday Destination
Summer is in full swing and maybe you are itching to escape the clutches of scorching sun and venture out to somewhere calmer. The chicest jet setters however will not board a flight without packing styles that are 'grammable and super comfy at the same time.
We'll help you pick multitasking pieces with loose silhouettes, soft fabrics, and soothing prints that look just as good while you are sightseeing or dancing the night away.
Here are some key pieces to keep you oh-so-cool and stylish through your vacation:
Blue-White Striped Off-Shoulder Playsuit: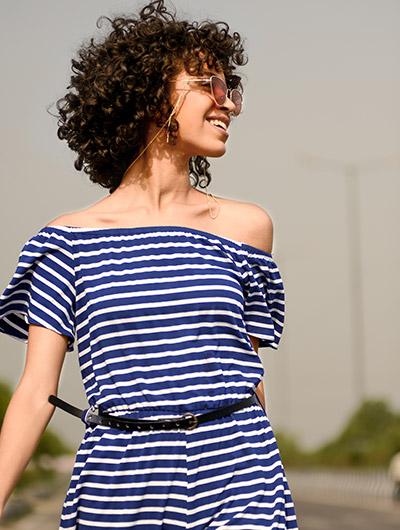 This nautical stripe playsuit makes us want to set sail into the sunset. Always down to party by the beach side or a pool, this one also makes a comfy onesie for strolling in the bazaars or sipping coffee in French cafes.
Flowy Sundress:
A lightweight and flowy sundress in a bright, tropical print will make you feel like you're already on a beach in Bali. This helps to create a balanced silhouette. Best of all, we picked out a variety of designs that cover different types of occasions and events.
Midi Dress:
Midi dresses are a popular choice for summer. They are perfect for the still slightly windy evening weather. Midi dresses come in a variety of styles, from wrap dresses to shirt dresses. They can be dressed up with a pair of heels or dressed down with sandals for a more casual look.
Black Pencil or A-line skirt:
A black skirt is another essential piece for any woman's wardrobe. This is probably because it can be dressed up or down, depending on the occasion. Pencil skirts are perfect for work or more formal events, while an A-line skirt is great for a casual look. For example, you can wear it for a job interview or a meeting and then transition to a happy hour afterward. Either way, you can't go wrong with a black skirt. If you don't already own a black style, we suggest you invest in one as soon as possible. You'll be surprised by how often you reach for it.
Mini Denim Dress:
Lighten things up in a featherweight denim dress when it's too hot to wear jeans. This mini silhouette is structured but not stiff, and like your favorite pair of skinnies, it can be easily dressed up with other pieces in your closet—like a bright handbag or shoe.